From its home base in San Diego, Allyson Green Dance returns to Danspace Project for a fifteenth anniversary with four works that traverse geographic as well as physical, emotional, and musical borders. Abandon, a duet performed with Monica Bill Barnes, explores "delicious contrasts between Green's elegance and Barnes' quicksilver fluidity" set against a video landscape of light installations in the Anza-Borrego Desert created by Peter Terezakis, and a sound score by British composer Alan Stones. Recordar, performed by Lux Boreal Danza Contemporánea, a gifted company from Tijuana, Mexico, is a sorrowful dance that dramatizes the human cost of geopolitical strife. Full Circle, set to Beethoven's classic String Quartet Op. 18 in F Major performed live by Peter Bucknell, Felix Fan, Judith Ingolfsson and Nurit Pacht, charts the joy and grief of a woman's life. The dance reunites twelve downtown dance notables: Carrie Ahern, Monica Bill Barnes, Eun Jung Gonzalez, Karen Graham, Carolyn Hall, Hetty King, Heidi Latsky, Janet Lilly, Bronwen MacArthur, Kate Weare and Celine Warshaw. The evening will conclude with the premiere of Nada Que Declarar (but everything to say), which reflects upon the choreographer's years of border crossings -- real and imagined. Set to the poignant music of Bach's Solo Cello Suite No. 6, the dance features cellist Felix Fan, the dancers of Lux Boreal (Tijuana, Mexico), and long time New York collaborator Carolyn Hall. The evening features lighting design by Carol Mullins.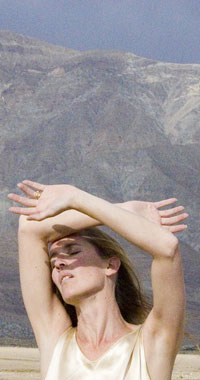 Friday, June 2 - Sunday, June 4, 2006 at 8:30 PM
Danspace Project
St. Mark's Church, 131 East 10th Street at 2nd Avenue
General Admission: $15.00 or TDF Voucher
Audience Reservations: (212) 674-8194 or www.danspaceproject.org




"Allyson Green makes radiant, compassionate dances about big subjects. [The] works are marked by gorgeous, inventive choreography and splendid performances." - Janice Steinberg, The San Diego Union-Tribune

About the Artist
Choreogrpaher and visual artist Allyson Green was based in New York from 1987-2001, where she performed with the companies of Yoshiko Chuma SOHK, Charles Moulton, Doug Varone, Randy Warshaw, Bill Young, and numerous independent choreographers. Allyson Green Dance has been presented in fifteen countries throughout East/West Europe, Canada, South America and the United States including presentations in New York since 1991. (This will be her sixth season at Danspace Project). Her choreography has been particularly influenced by her experiences in Eastern Europe: recent projects include performances in Bucharest, Romania, and Skopje, Macedonia; the co-presentation of the Central Station Festival in the United States; and an upcoming CEC ArtsLink fellowship to Moscow and Riga, Latvia. Known for her collaborative endeavors, she has created duets with Montreal's José Navas and Dominique Porte, and Great Britain's Ben Wright. Green is currently an Associate Professor of Theatre and Dance at the University of California, San Diego. She served as the Artistic Director of Sushi Performance and Visual Art from 2003-2005, where she was named one of the top four arts leaders in San Diego by the San Diego Union Tribune.

"Nada Que Declarar" is made possible, in part, with funds from the Danspace Project 2005-2006 Commissioning Initiative with support from the Dans/Creation Fund, and was co-commissioned by the International Arts and Ideas Festival in New Haven, CT. The presentation of Lux Boreal is supported by CONACULTA (Consejo Nacional para la Cultura y las Artes de Mexico) and by Secretaria de Relaciones Exteriores, Mexico. "Full Circle" was commissioned by the La Jolla Music Society SummerFest Festival. This evening's presentation is supported by a UCSD Academic Research Award.

About Danspace Project

Danspace Project was founded by artists in 1974 to provide a venue for independent experimental choreographers. It combines a rich history with an unstinting commitment to that which is contemporary, creative, and cutting-edge. Three defining characteristics have secured its position as a leading advocate for contemporary dance: Commissioning and presenting new dance work from New York, the U.S., and abroad; nurturing independent experimental choreographers at all stages of their careers; and professionally producing dance in uniquely flexible and communal settings like St. Mark's Church in-the-Bowery and other remarkable venues throughout New York City.

Danspace Project's mission is to stimulate, promote, and present challenging new work in dance from a broad range of artistic voices within a distinguished and nurturing environment. Danspace Project encourages choreographers to take risks and is committed to assisting artists in realizing their creative visions within a professional setting. Danspace welcomes the public to engage in and be transformed by the work of artists.